The topic of assisted suicide has been discussed in the news a lot recently as the Dignity in Dying campaign has spread their message.
It is currently illegal for someone to be assisted in dying in the UK, even if they are suffering from a terminal illness. This means people have to suffer and have no way out. This campaign is supporting a legislation which would allow terminally ill adults to chose to die, when and how they want.
For me, this is something that I don't even have to consider for very long to reach my decision. Of course assisted suicide should be legalised. I cannot think of a single argument against the legalisation of it.
Why should someone who is suffering be denied the chance to end their life? In my mind, I see it as a personal choice; it's their life and if they want to end it, why should they be denied that right? Isn't denying them the right to die just putting them through more suffering? I believe it would make their suffering worse to know that aren't being granted one of their last wishes and to know there won't be a quicker end to their pain.
If the sufferer is in a position where they need someone to assist them in dying, it would imply that have the most limited control over their lives and therefore they should be allowed that last bit of control; they should be allowed to die if it is their wish.
The Bill would mean adults within the UK are allowed to end their own lives with assistance if they have less than six months to live. The Bill has currently reached its second reading at the House of Lords, with support from peers.
The message behind the #untiltheend campaign is that if assisted suicide is legalised, it wouldn't be the cause of more deaths, but it would mean that there is a lesser amount of suffering. This is true; in the end we will all die anyway, but allowing someone who is terminally ill to chose when they want to die would mean they have to spend less time suffering. Supporting this campaign would mean less people have to suffer.
I have been reading other people's opinions but have found only one idea that I feel could inspire someone to disagree with the legalisation of assisted suicide. That is the idea that it could be used in ways that it is not meant to be; that the option of assisted suicide would be taken advantage of. For example, if it was used as an alternative to spending money on medication and medical staff necessary to care for the suffering in the time leading up to their death. This is a horrific idea but it needs to be considered so safeguards can be put in place that which will prevent that happening.
If this act becomes legal (which I still fully believe it should), there should, and I have no doubt that there will be, a protocol put in place to make sure this option is not being exploited or used in the wrong situations. One of the states of America, Oregon, have already passed this law and they have a system in place which means assisted suicide cannot just happen anywhere at anytime. This picture explains some of the circumstances surrounding their assisted suicide law.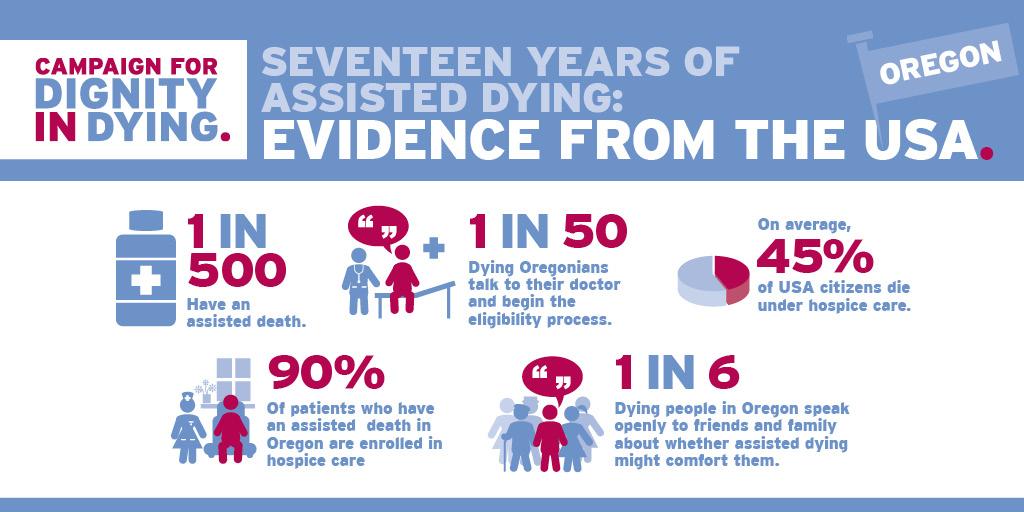 In a surprising turn, last week two members of the Church – Desmond Tutu, retired Anglican archbishop and Dr George Carey, former archbishop of Cantebury – both voiced their support for the Dignity in Dying campaign. The Church would typically take an opposing view, arguing that the principles of religion are against the Assisted Dying Bill; members of the Church would possibly argue that we should be devoted to caring for the suffering, not killing. But as Dr George Carey explained, he "began to reconsider how to interpret Christian theology on the subject." As he did so, he "grew less and less certain of [his] opposition to the right to die." He added "in strictly observing accepted teaching about the sanctity of life, the church could actually be sanctioning anguish and pain – the very opposite of the Christian message."
Obviously the Church has traditions and principles that their members will adhere to, but ultimately, by opposing this bill, are they not just showing indifference to the people who will have to go on suffering?
Protocol should be put in place to ensure that it is the choice of the ill person and they haven't been pressured or influenced but the decision should be that of the dying, not the government or anyone else. To what point does the person's standard of living need to have deteriorated to be allowed to consider assisted suicide? Obviously these things need to be considered and made clear.
This has just been a way for me to express my opinion on the matter and spread the word about the Dignity in Dying campaign
. If you want to know more about it you can go to the website here. Find them on Twitter here or search #untiltheend.
As a budding journalist, I work for broadcasters Podium.me. A few weeks ago they made a podcast about the topic of Assisted Suicide, where teenagers discussed their opinions about it. You can find that here.
// Beth